About
Our products are the highest quality Polish timber, carefully designed and tested with the most demanding industry standards.
Our wooden floors are covered with seven times a very durable varnish – this not only hardens the coating, but also increases its resistance to mechanical damage such as scratches. Thanks to this protection, there is no need for sanding or further finishing of the parquet surface. The UV hardened varnish is permanently bonded to the wood, preventing cracking and peeling. In addition to varnish, we also use Osmo Oil-Wax to protect our products. It is a product based on natural oils and waxes, which allows for a professional finish of the wood.
It creates a microporous coating on the floor surface, which at the same time protects the material and allows it to breathe freely. Osmo Oil Wax protects the wood against abrasion, dirt, water and stains. Thanks to this solution, our varnished parquets are durable and cause no problems in everyday use. We offer 50 years of warranty – yes, that's it! We are sure that the oils and varnishes we use will protect your wood for up to 5 decades.
If you are looking for a durable floor with high aesthetic value, and at the same time easy to maintain, then in our offer you will find many different color variants of products made of oak and ash wood
Floor finish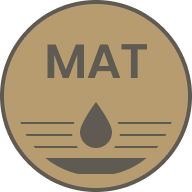 Wood hardness classification
Catalogue